"Camille, you have GOT to see this!!!" as my friend opened up her laptop. Ten years ago, I had no idea what she was about to show me would have such a profound impact on me. My friend pulled up a YouTube link of a mind-blowing performance of an incredible guitarist, Andy Mckee playing an original instrumental guitar piece called "Drifting" while using the most interesting technique. My eyes were glued on Andy's fingers and his ability to play the bass, melody, and percussion ALL at the same time. I was HOOKED!!I loved the creativity and the unique style of playing the guitar while integrating percussion. It sounded like a one-man band on guitar! It was guitar playing outside the box.
Andy Mckee "Drifting"
Later that night, I studied Andy's YouTube video of "Drifting" meticulously and was obsessed and determined to learn the song. I stayed up all hours of the night until I finally got it down and was able to play it for my friend who had originally showed me the video. I will forever be in her debt for introducing me to such a unique guitar style, referred to fingerstyle guitar or percussive/slap guitar.
I love the creativity and the challenge that comes with fingerstyle guitar. I grew up playing sports and even though it might sound kinda funny, there seems to be almost an athletic piece to fingerstyle guitar. The speed, strength, coordination, and the keeping track of multiple things at once (multitasking) make it seem like a sport of some kind. Mostly, I love how fingerstyle guitar lends such creativity and originality to playing. It's fun to figure out how to integrate bass parts along with the melody and percussion.
I have since found several other players who also play similarly and it is incredibly inspiring to see and hear the creativity in their playing.I found out Michael Hedges was deemed the "pioneer" of the technique and had passed away years ago but had started such an incredible era of unique guitar playing. About a year later in 2007, the movie, "August Rush" came out that demonstrated the type of fingerstyle playing that left me mesmerized watching Andy Mckee's "Drifting." Another fingerstyle player and composer, Kaki King was the guitar double in the movie and I quickly became more motivated to learn more fingerstyle guitar playing along with the pop/rock songs I had been writing.
August Rush, 2007
I saw fingerstyle guitar as more than a technique than a musical style. I realized it was more than plucking single strings; Kaki King says it best in her reflection, "I approach acoustic guitar the way Native Americans approached the buffalo, I try to use every part of the animal."At the time though, I did not realize this. All I knew was that Andy's song was amazing and it touched a place in my soul as an artist.
Several years later, while living and writing music in Nashville, I attended an Andy Mckee concert at a nearby venue, City Winery. I chatted with Andy at the end of the concert and thanked him for how much he and his fingerstyle guitar playing had inspired me. He told me about a week-long guitar workshop he was hosting later that year in New York called "Musicarium." I was immediately interested and hoped to save up the money to attend and learn as much as I could since I had been feeling such a drive and interest to improve my fingerstyle guitars skills.
Andy Mckee Concert, 2015
In Nashville I attended every writer's group available, scheduling three-hour writing sessions, and performed anywhere and everywhere. I played Christian rock in the morning, with a trio at noon, and by evening I was deep in the land of blue grass.
There was a constant push to continue writing singer-songwriter music, even though it was the instrumental melodies that resonated most with me.
At that time Kaki King was taking new students, and I managed to find a spot studying with her. Her personality and teaching style reminded me of one of my favorite professors from college. I quickly took to her great instruction and appreciated her mentorship and encouragement to improve my fingerstyle guitar skills. I really enjoyed learning various techniques and songs from her and appreciated the way in which she pushed me to compose more of my own original fingerstyle guitar songs.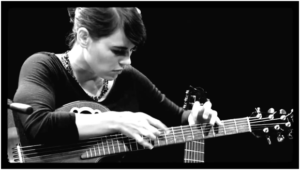 While at home in Utah visiting family, I showed my father the fingerstyle guitar songs I had been writing. While I had been working with this technique for nearly a decade by then, it was at this time that I focused on pursuing it more intently.Andy Mckee's Musicarium guitar camp was still in the back of my mind and I could not stop talking about it and gravitational pull I felt to attend. "I don't know if I should go. It starts tomorrow in New York," I contemplated out loud. I already had a flight back to Nashville booked for a few days later that week.
"Well, honey, is there still room?" my Dad asked me. The fact that my father even asked this question alerted me to the fact that he thought this was an option worth pursuing. I had never seen my dad so encouraging at something so spontaneous. As a violinist, he recognized that fingerstyle guitar was unique and I had a strong interest and natural affinity for it and he fully supported my decision to go to the guitar camp. I booked my flight that night and left the next day. Since Kaki King lives in New York as well, I was able to arrange a time for us to meet up for a day-long fingerstyle guitar boot camp in addition to Andy's guitar workshop.
Andy McKee's Musicarium camp provided me with the opportunity to work with talented and like-minded fingerstyle guitar artists. It also was the inspiration I needed as a musician to break out and start learning and composing more instrumental/fingerstyle pieces. I continue to be influenced by the music and passion of the fingerstyle guitar artists I got to work with while in New York: Andy Mckee, Billy McLaughlin, Antoine Dufour, Stephen Bennett, and Kaki King. Music for me is about creativity, the ability to expose a melody, while also fostering an emotional complexity, though the use of guitar, violin, and sometimes vocals.
Andy Mckee's Musicarium, 2015
In January 2017, I will be releasing my next album; primarily fingerstyle guitar instrumental music filled with the love, devotion, and complexities that life breathes into our music. And if you cannot wait till then, mark your calendar for October 18thfor the release of the music video "Dreaming in Song."
In the meantime, be sure to check out the video for "Can't Stop Thinking of You." https://www.youtube.com/watch?v=ahimng2Mqwk