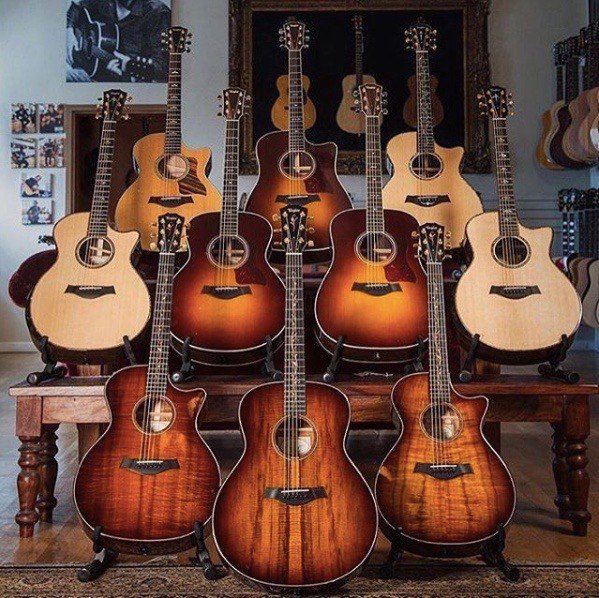 It's all about fingerstyle, it's all about acoustic!
Every fingerpicking guitarist needs a quality instrument to match their skills – That's why I've put together a list of the top 5 Best Guitars for Fingerstyle!
There are dozens of acoustic brands on the market that offer different pros and cons. Some focus on a cheap price tag with lower quality, while others are highly customized and expensive. Some are for the newbies, and others are for the seasoned professional. And between the type of wood, shape, cutaway, strings, braces, and finish; buying a new guitar becomes a headache.
Don't worry though, I've swam through the sea of brands and found what works, and what doesn't. There's gotta be something out there for you.
Before I list the top 5, keep in mind that every artist has their own unique sound (that's the beautiful aspect of our craft). And choosing the perfect guitar will ultimately come down to your own preferences. But let me give you a push towards the best brands in the biz:
#1. Taylor – best fingerstyle guitars at fair prices
What do Dave Matthews, Taylor Swift, and Matteo Gobbato (popular fingerstyle guitarist) all have in common…
Each of em' rocks the Taylor Guitar!
This well-established, California based brand is the leading producer of acoustic guitars in America, which means they're doing something right! With just under 300 different models of acoustic guitars, there's a wide range of prices and qualities available.
Taylor is known for it's crisp sound, and ease of use right out of the box. It caters to the fingerstyle artists because they craft their pieces with your choice of a variety of different beautiful, exoctic woods. From the Koa trees of Hawaii, to the Spruces of Europe; these guitars stand out from the crowd and offer unique, foreign tones. For example, the cedar top offers sweet, sweet highs; while the Mahogany back and sides offer durability and excellent resonance.
This maker lands on the 'Best Guitars for Fingerstyle' list because they offer good instruments at fair prices, not to mention I personally play a Taylor Guitar!
#2. Martin – best fingerstyle guitars with dreadnought design
The Martin Guitar is like the ole' reliable truck your grandfather has kept fixed-up all these years. This brand has a collective 100 years of rich, acoustic crafting heritage. The quality put into each of their instruments is vintage.
If you love to fingerpick on a dreadnought style guitar, this is your maker. They are known to have THE best dreadnoughts on the market, and they have stuck to this style since their inception. These craftsmen are committed to quality and never make sacrifices to lower prices.
I enjoy the Martin because several of their models feature less tapered necks and thicker fingerboards – which means more space between the strings for your fingers to fit in and pluck away.
Notable guitarists from varying genres use this product – including The Lumineers, Ed Sheeran, Seth Avett, and Steve Miller. Proving just how timeless and versatile this brand is.
Martin places on the 'best fingerstyle brand list' because of the superior quality and thick fingerboards.
#3. Collings – best fingerstyle guitars for total customization
Collings Guitars is a company founded in Austin, Texas; whose beginnings were humble and whose reputation is now the finest in the industry.
The special thing about this guitar maker is the master craftsman himself – Bill Collings. He makes every guitar with not only precision – but with passion. It's truly astounding how much time goes into crafting each one to perfection.
They sell both 14-Fret models and 12-Fret models. The best fingerstyle guitars come from their 12-Fret series (especially the 0001 or 0002H). These models supply rich tones, and explode with energy when fingerpicked. Like the Taylor guitar, the Collings can be customized with plenty of special woods. Adirondack wood for the soundboard (top) is a great choice for fingerstyle. Adirondack can be played very hard and loud, while retaining its clarity and richness!
This company has a large following, with dozens of famous artists owning their instruments. Keith Richards, Conan O'Brien, Mumford & Sons, and Zac Brown – just to name a few.
The Collings has found itself on this 'Top 5 Best Acoustic Guitar' because of its fine reputation and the magnificent, cascading melodies it produces.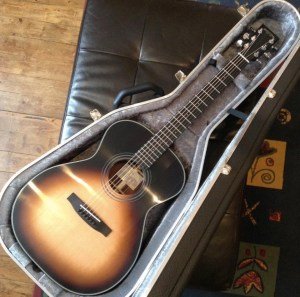 #4. Stonebridge – best fingerstyle guitars for clarity and balance
This acoustic company is the new kid on the block (formed in 2004). But don't let that hold you back – with Stonebridge, fingerstyle come first. As a boutique guitar crafter, they specialize in building you a sweet one-of-a-kind instrument. Creator Roger Schmidt, an avid fingerstyle guitarist himself, keeps artists like me in mind when crafting his product.
What you're purchasing with this maker is a guitar that can handle anything from light to heavy attacks. Known for their clarity and balance, they are also very responsive – a solid guitar in every aspect.
Many musicians love to strum on this top-notch brand. Take Bob McAlpine, for example. He managed to win the 2014 Canadian Fingerstyle Guitar Champion playing a Stonebridge.
As a top 5 best guitar brand – you can't go wrong with the Stonebridge. Get ready to own and hone your skills with this brand.. it's sure to stand the test of time.
#5. Greenfield – best fingerstyle guitars for ergonomics
Greenfield specializes in ergonomic, smooth, and down-right beautiful looking guitars. Their instruments are made-to-order and are 100% customizable. That being said, don't expect to click and drag one of these into your shopping cart, then proceed to checkout. It's a long wait list but well worth it – if you're looking to take your fingerpicking to the next level.
This brand likes to innovate; it's focused on making the experience of playing one of their guitars as comfortable as possible. In certain models, the sides of the body are beveled into a "Laskin Style Arm Rest" and Rib Rest. This feature makes all the difference when you're playing in the standard, seated position (it looks quite stylish too).
The fanned fret system is another trademark innovation. These special frets incorporate multiple scale lengths that are 'fanned' out from the neck all the way down to the body; giving the instrument superior harmony, versatility, and – yes – ergonomics.
For musicians like myself I recommend the G4 model. This 17" large body has plenty of room to play and has a 'punchy' bottom end. Legendary fingerstyle guitarist, and my personal favorite, Andy McKee even rocks the G4.2.
Greenfield gets a deserving number 5 on the best fingerstyle guitars because of its innovation and customization.